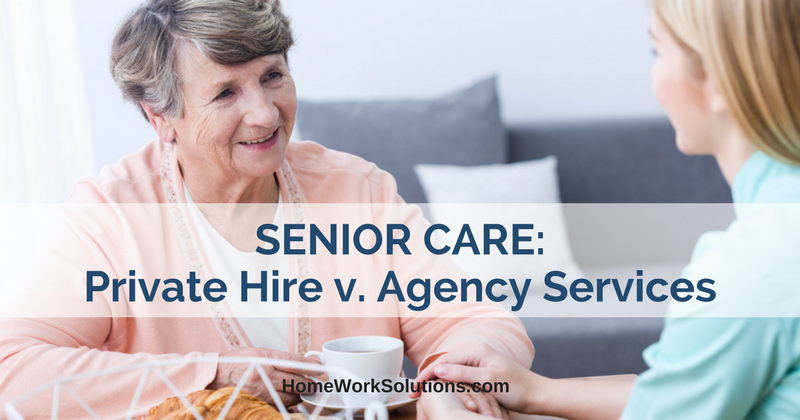 If your loved one needs assistance in the home doing routine tasks, there are some options that you will need to consider. In-home senior care for the long term means that you could directly hire someone privately, directly hire someone that you know personally, or engage a senior care agency to staff and manage your caregiver. Knowing the major differences between these options will help you make the right decision.
Privately Hired
If you directly hire someone - whether recommended by a friend, referred by a senior care registry or found directly - this usually means that the caregiver gets a higher wage than she would through a senior care agency and may be more likely to stay. Improved retention is helpful in cases of in-home senior care. It's also important to note that privately hired senior care companions may be exempt from federal overtime rules. Hiring a caregiver privately requires additional work on your end to make sure you're finding a reputable person. You'll need to conduct interviews, complete background checks, and make sure you check references. Furthermore, you'll need to fill out the required paperwork to have an employee in your home and be sure you understand how to deduct and pay payroll taxes and obtain workers' compensation insurance.
Agency Hired
Working with an agency can be a very convenient option. The cost per hour will be higher, but there is a lot of to-dos that you simply won't have to do if you work with an agency. Caregivers will be employed through the agency, which means that you won't be responsible for managing payroll taxes, unemployment insurance, and worker's compensation insurance. In addition, you won't be in charge of conducting drug or background tests and the screening and training process has already been completed by the agency. Another great benefit is that the agency will have backup caregivers available in case your primary caregiver is sick or on vacation.
Hiring someone to take care of your loved one is an emotional job, but it's something that's very important, because it provides senior citizens the option to age in the comfort of their own homes. Determining your budget is one of the first steps. Many families successfully manage a blended care situation, with a primary caregiver that they directly hire, and an agency team for some nights, weekends and backup care as required. As always, doing your homework up-front is one of the best ways to know you're getting the best available caregiver situation in place for your loved one.