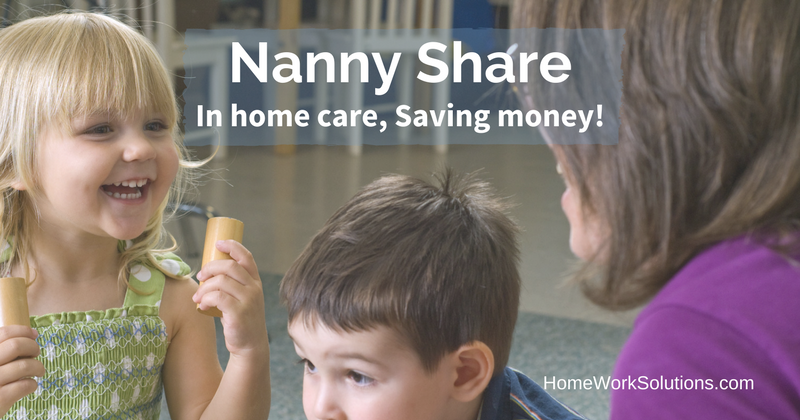 When you're away at work, you want someone that can take care of your kids with love, attention to detail, and the utmost care. Finding the right person for this job can be quite a task and many times, it can be expensive. Have you considered a nanny share? A nanny share allows you to hire the nanny you want, for the price you can afford, because you are sharing the nanny and costs with another family.Nanny sharing is a common situation that allows a nanny to care for the children of more than one family. Here are some important logistics of how a nanny share could allow personalized in home care for your child, without breaking the bank.
Tip #1: Determine your budget
Before you set out to hire a nanny, know exactly how much you can afford to pay for this service. A nanny that is working in a nanny share situation should be paid more. It is typical to see total compensation of 20 to 25% more than the average single rate, but keep in mind that if you're splitting that rate between families, this will cost you significantly less per family than if you were to hire your own individual nanny.
Tip #2: Find your match
Experts recommend that parents meet and decide together on the nanny they want to hire. If you don't have a family in mind that may benefit from an arrangement like this, there are certain agencies that can bring families together to introduce them and see if it's a potential fit. Many times families that know each other and get along well make great nanny share partners.
Tip #3: Know how many children your nanny can handle
Discuss in advance what your nanny is comfortable with in regards to how many kids she can watch at the same time. Experts recommend that 2-3 children, and 4 children should be the maximum with just two families involved. The more children and families that are involved, the more management and communication it takes, which could cause complications in the long run.
Nanny sharing can have significant advantages. Not only will you save money, but you'll have all of the same benefits of having a full time nanny to help care for your child. In addition, your children will get to spend their days in a comfortable and familiar environment rather than a daycare center.
If it's executed properly, a nanny share may be one of the best and most rewarding experiences in your child's life!