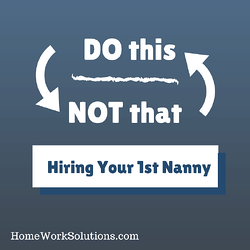 Hiring a nanny for the first time can be a harrowing experience. Before you introduce a new nanny to your children and invite them into your home, you want to be 100% confident that they are the perfect fit for your family. Save yourself the frustration of hiring the wrong nanny by avoiding these common missteps.
DO write an honest and thorough job description.
"Nanny" as a job description doesn't quite cut it. Outline your expectations under the basic headings of childcare, family support and housework. Will your nanny need a car? Will she help with homework? Will she need to cook dinner once in a while? The International Nanny Association offers a helpful list of job descriptions here. The more thorough your job description, the better.
DO ask the right interview questions.
The right nanny will be compatible with your family on more than just the basic levels. While it is important to ask about their previous experience, it is most important to get a feel for whether a nanny's personality and childcare philosophy are compatible with your children and your family's dynamic. Inquiring how your nanny would deal with a misbehaving child, or reward good behavior can provide valuable insight into how well-suited your nanny will be to your family's needs. Questions that start with "Tell me about a time when..." or "How do you feel when..." elicit more informative answers than "Have you ever taken a child to a public restroom?"
DON'T forget to do a comprehensive background check and screening.
Avoid unpleasant surprises by screening and background checking any nanny candidate before they being work in your home. These precautions have become industry standard.
Verify references by calling previous employers and inquiring about the dates of employment, the scope of the nanny's responsibilities, her strengths and weaknesses, and the reason for separation. Order a pre-employment criminal background check from NannyVerify.com. If your nanny will be driving your children, consider asking about her driving record.
DON'T hire a nanny to be a housekeeper.
It seems obvious that a nanny's primary responsibilities should revolve around childcare, right? It is reasonable to expect that nanny will clean up after herself and the child. For example, a nanny might vacuum after a craft project or even wash a child's clothes after sports practice. However, asking a nanny to take full charge of housekeeping is not a typical arrangement, and limits the quality of attention the nanny can give to your children.
DO offer fair, living wages in step with market value.
It's important to remember that a hiring full-time nanny is expensive. Living wages for a full-time nanny should cover the cost of her housing, transportation, and food. Offering "below market" compensation will likely reduce the quality of childcare you will receive or increase turnover which can be tumultuous for young children. Consider a nanny share if a full-time nanny is outside of your budget.
DON'T forget your obligation as an employer (payroll taxes and insurance).
Before hiring a nanny, do research to understand your obligation and the costs involved. Start here with our free guide to the Household Employer's Payroll Tax. While employing a nanny offers many benefits to you and your children, it also comes with financial responsibilities and involves a certain amount of work, such as record-keeping and tax filings. If you ignore the "nanny taxes", intentionally or not, you're doing a disservice to your employee and probably yourself, too.Call HomeWork Solutions' payroll and employment tax specialists at 800-626-4829 or click below for a free consultation on your responsibilities.

DO employ a written work agreement to cement the terms and conditions of employment.
A work agreement details the terms and conditions of employment and typically includes expected duties, hours, benefits, and compensation. The written work agreement serves as an informal contract can help you avoid all kinds of conflict down the line. Learn more about hiring a nanny with a written work agreement here.