California State Assemblyman Tom Ammiano (D-San Francisco) is set to introduce legislation in the California State Assembly modeled after 2010's New York Domestic Worker's Bill of Rights.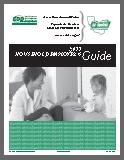 Assemblyman Ammiano's bill will include regulation of meal and rest periods for domestic workers, and will mandate annual pay increases, paid vacation, and paid sick days. Living conditions for live-in nannies will also be stipulated.
California household employers are already challenged by the rules and regulations outlined in California's 75 page Household Employers Tax Guide.Whether this proposed legislation ever arrives at Governor Brown's desk for a signature is anyone's guess. HomeWork Solutions will continue to monitor the issue.
Household employers need to remain aware of the various wage and hour rules and regulations, and tax laws that regulate the workplace they have created in their home. A well written nanny work agreement is a critical protection for both the employer and the nanny! Keep time cards. Pay for overtime when it is required. Keep current on nanny tax reporting. Have proper workers compensation insurance, and disability insurance if required. All of these items protect the nanny employer from a disagreement or a simple accident that results in expensive lawyers meeting around a table.
~~~~~~~~~~