10 Tips: Household Employees & The Fair Labor Standards Act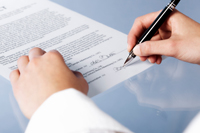 Household employees - housekeepers, maids and house managers - are covered by the Fair Labor Standards Act (FLSA). Household employers need to understand their legal obligations regarding pay, overtime, record keeping, and issuing the payroll to protect themselves from costly and time consuming complaint resolution should an employee file a Wage & Hour complaint.


A written work agreement or contract is a best practice to protect BOTH the family and the household employee.
Learn how to:
Protect yourself by stating the housekeeper's wage in FLSA compliant terms.
Understand the law regarding overtime, sick, personal, and vacation pay.
The importance of accurate, contemporaneous record keeping.
and more...
Fill out the quick form at the right and we will email this to you immediately. We will also give you the opportunity to download any other titles in our "10 Tips" Series.
You have questions! In HomeWork Solutions' Popular "10 Tips" Series we distill common problems and challenges household employers face and offer 10 easy to follow steps to resolve the problem, avoid blunders, and eliminate conflict.
About the Author
KATHLEEN WEBB co-founded HomeWork Solutions in 1993 to provide payroll and tax services to families employing household workers. Today, HomeWork Solutions provides payroll and nanny tax compliance services to thousands of household employers nationwide.

Webb is the author of numerous articles on this topic and has been featured in the Wall Street Journal, Kiplinger's Personal Finance, and the Congressional Quarterly. She also consulted with Senate staffers in the drafting of the 1994 Nanny Tax Law. Webb is a magna cum laude graduate of Boston College.