411: California Household Employment
Household payroll is complicated, and a mistake can be very costly. Bloomberg BNA recently rated California one of the three most complicated states for employer compliance with payroll and labor laws. If you employ a household worker - nanny, housekeeper, elder caregiver, or other domestic - in California, you need to be aware of Federal and state regulations that govern this employment relationship.
Although a nanny works in a private home, there are a combination of Federal and State workplace protections in place that provide the household employee with some basic rights.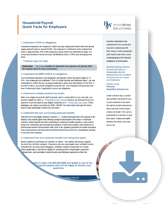 Areas covered include:
Hourly pay.
Minimum wage.
Overtime.
Time cards and other records.
and more...
Send me the Fact Sheet for California!
About the Author
KATHLEEN WEBB, President, co-founded HomeWork Solutions in 1993 to provide payroll and tax services to families employing household workers. Today, HomeWork Solutions provides payroll and nanny tax compliance services to thousands of household employers nationwide.

Webb is the author of numerous articles on this topic and has been featured in the Wall Street Journal, New York Times, Kiplinger's Personal Finance, and the Congressional Quarterly. She also consulted with Senate staffers in the drafting of the 1994 Nanny Tax Law. Webb is a magna cum laude graduate of Boston College.