Every Family Needs a Nanny Work Agreement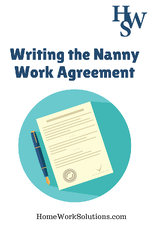 Experienced nannies and nanny employers know the value of the written nanny work agreement (or contract).
Details do count. Taking the time at the beginning of the employment relationship to define all aspects of the relationship will engage the nanny in a conversation about the family's specific requirements and expectations. Learn about...
Compensation language
Benefits
Duties

Termination clause
Key points often forgotten!
Receive your Guide to Writing a Nanny Work Agreement