Nanny Employers! We are ready for 2011!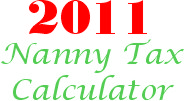 HomeWork Solutions' popular Nanny Tax Calculator is now available to calculate 2011 nanny payroll. The calculator update takes into account the one year reduction in the nanny's payroll tax and the expiration of the Federal "Making Work Pay" tax credit.
The nanny payroll tax calculator is free to use, simply requiring site registration. HomeWork Solutions' clients are advised to log into their online account first, which will enable the client to store payroll calculation in their online account, and to update their nanny or housekeeper's payroll profile.
Please remember, if you are calculating this payroll before the end of 2010, make sure you select tax year 2011 from the drop down menu!
~~~~~~~~~~~~~~~~~~~~