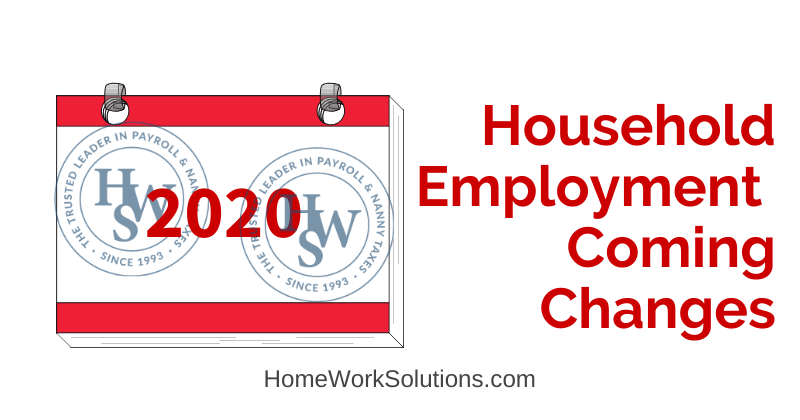 Updated 31 December 2019
Every year HomeWork Solutions prepares a "what's new or changed" roundup of household employment tax laws and benefit information.
HOUSEHOLD EMPLOYEE 2020 WAGE BASE:
The IRS annually reviews, and adjusts as necessary, the wage payment threshold that obligates a family to pay Social Security and Medicare taxes and issue employees W-2 forms. This threshold will increase to $2200 for 2020, the first increase in 3 years.
TAX ADVANTAGED HEALTHCARE OPTIONS:
The IRS allows an employer to reimburse healthcare costs to their employee tax free via two Healthcare Reimbursement Schemes, subject to program guidelines. Most household employers will find that the Qualified Small Employer Healthcare Reimbursement Arrangement is the most beneficial. However, household employers whose employee participates in their partner's employer's group healthcare plan, and employers whose employee is working on a special visa such as a G-5 or A-3 should consider the Individual Coverage Healthcare Reimbursement Arrangement. The employer must have a written plan (we have you covered there) and all reimbursements must be noted on the W-2 form to remain tax free.
> Request a Free QSEHRA Plan Template
TAX FREE TRANSPORTATION FRINGE BENEFIT
Employers may provide a mass transit tax free reimbursement of up to $270 monthly to their household employee.
PAID SICK AND FAMILY LEAVE LAWS:
Four states - Arizona, California, Rhode Island, and Washington —plus the District of Columbia have enacted laws prior to 2018 to provide job-protected PAID leave to workers to care for their newborns as well as sick and disabled family members. Many other states and localities have advanced regulations that offer PAID leave to employees of smaller employers (generally 10 or more employees) and UNPAID job-protected leave to employees of smaller employers. In general these laws allow time off to deal with both the employee's illness and medical appointments and that of family members. Most laws require employees to make a reasonable effort to schedule paid leave so as not to unduly disrupt the operations of the employer – in other words notice of medical appointments should be ample and, when possible, be scheduled close to the beginning or end of the day.
Here are the statewide PAID SICK LEAVE in effect for 2020:
2020 MILEAGE REIMBURSEMENT
Update 31 Dec 2019
The 2020 IRS mileage reimbursement rate is 57.5 cents per mile, down a half-cent from 2019. Business use for a household employee may include running errands for the family and transporting children or a senior to appointments, activities and school. Routine commuting between your home and place of work is NOT considered business use, and is not typically reimbursed. If any commuting is reimbursed, this is considered taxable wages. The IRS reminds taxpayers "It is important to note that under the Tax Cuts and Jobs Act, taxpayers cannot claim a miscellaneous itemized deduction for unreimbursed employee travel expenses." HWS recommends that mileage reimbursement be included as part of the employee's work agreement when an employee's personal vehicle is used for work purposes.
WRITTEN WORK AGREEMENT:
Effective in 2020, the City of Philadelphia requires the household employer provide a written employment agreement at the time of hire outlining wages and benefits in English and a language the household employee understands, if not English. Many other states and localities require that employers disclose in writing pay rates, either via a separate written notice or by outlining on a pay stub.
CALIFORNIA AB 5 CODIFIES THE A-B-C TEST:
California legislative initiatives aggressively establish laws and regulations intended to insure that all California workers receive their full legal workplace rights and benefits. Assembly Bill 5 establishes a simple A-B-C test to determine the difference between employees and independent contractors.
To establish a bona fide independent contractor status for a worker, the employer must meet all of the following "tests."
(A) The worker free from the direction and control of the employer in performance of contracted services;
(B) The work performed is not in the "usual course of business" as the employer;
(C) The worker is customarily engaged in an independently established trade, occupation, or business.
This A-B-C test is largely the same is the newer standard in New Jersey too. The bottom line is that is it impossible for any household employer to meet this standard for any caregiving employee - nanny, senior caregiver, or a personal attendant for a disabled or ill adult.
NEW YORK STATE SALARY HISTORY BAN:
Starting in 2020, New York statewide prohibits employers from requesting, considering or relying on prior salary history information including but not limited to wages, benefits, and other compensation from applicants. Currently 19 states and 17 metropolitan areas have salary history bans in place. To find out if you are covered by a salary history ban check here.
Compliance with legal payroll tax laws is time consuming for household employers. Find out why so many families outsource this activity to HomeWork Solutions' household payroll tax compliance service.